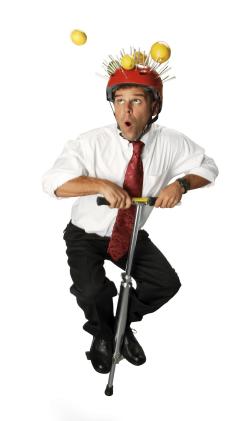 Roberto began his juggling career as the other half of the Pacific Northwest's legendary Gentlemen Jugglers in 1980. For 25 years Robert Stuverud performed at hundreds fairs and thousands of private events. Including appearances in Japan, New Zealand and Canada, and 45 of the 50 United States.
Roberto the Magnificent is one of the most in-demand entertainers for outdoor fairs and festivals. He is a top-notch main stage act and offers a variety of entertainment programs for fairs and open air festival events. Click here to see some of his roving characters.
Roberto maintains a full year-around schedule, below is a list of annual repeat performances.
State Fairs have included: California State Fair, Calgary Stampede, Dade County Fair and Expo, Delaware State Fair, Edmonton Klondike Days, Florida State Fair, Houston Livestock Show and Rodeo, Indiana State Fair, Los Angeles County Fair, Minnesota State Fair, Montana State Fair, New Zealand Royal Easter Fair, Ohio State Fair, Oregon State Fair, Pacific National Exhibition, Tulsa State Fair, Western Washington Fair
Music & Arts Festivals have included: Brockville River Festival ( Ontario , Canada ), Bumbershoot Festival ( Seattle , WA ), Celebrate Fairfax ( Virginia ), Des Moines Art Festival (IA), Main Street Arts Festival ( Fort Worth , TX ), Portland Rose Festival (OR), Riverbend Festival ( Chattanooga , TN ), Sweet Pea Festival (MT), Tulip Festival ( Nagasaki , Japan )
Television Appearnces: ESPN Top 10 Plays of the Night (#6), Fox Sports, Good Morning America , Northern Exposure, NBA Inside Stuff with Ahmad Rashad, Statler Brothers Variety Show, Totally Hidden Video
Opening Act for: David Copperfield, Conway Twitty, Reba McIntyre, The Kingsmen, The Temptations, Weird Al Yankovic