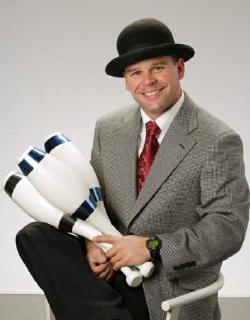 Robert Stuverud and began his juggling career as half of the Pacific Northwest's legendary juggling duo, the Gentlemen Jugglers way back in in 1980, he was 11 years old. Since then Robert has performed at hundreds of public and private events for corporate clients in 45 of the 50 United States.
Robert is one of the most dynamic and in-demand entertainers, often featured as a main stage act at music and arts festivals. You may have already witnessed Robert's explosive energy as the halftime show at a recent professional sporting event (i.e. NBA Basketball, Hockey, Arena Football and Minor League Baseball).
Robert's comedy material is appropriate for audiences of all ages and his program can be adapted to a variety of indoor venues and outdoor settings.
Corporate Clients have included: Alaska Airlines, Arco, Bank of America, Boeing, Blockbuster Video, Coca Cola, Frontier Bank, Kodak, Kenworth Trucks, Macy's, Merck, Microsoft, Nintendo, Nordstrom, Plum Creek Timber, Paccar, Pepsi, Pfizer, Scott Towel, Shell, Verizon Wireless, Washington Mutual Bank, Wal-Mart, Weyerhaueser, Westinghouse
Television Appearances: ESPN Top 10 Plays of the Night (#6), Fox Sports, Good Morning America , Northern Exposure, NBA Inside Stuff with Ahmad Rashad, Statler Brothers Variety Show, Totally Hidden Video