Roberto the Magnificent's Crazy Comedy Stunt Show!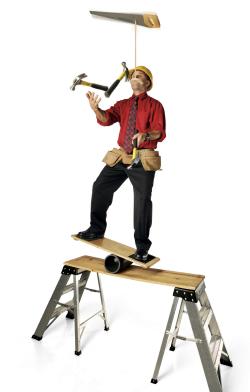 Captivating audiences for more than two decades, Robert Stuverud (a.k.a. Roberto the Magnificent) is recognized as one of the nation's most unique variety acts performing throughout the USA. Robert learned to juggle and unicycle at age 11, within four years he was awarded a silver medal at the World Juggling Championships. Since then Robert has accumulated more than two decades of experience performing for live audiences...
Roberto the Magnificent has appeared at thousands of events from civic performances, state fairs, music & arts festivals and schools. He is also one of the most in-demand solo entertainers featured as halftime entertainment for professional and semi-pro sporting events!
Every one of Roberto's performances are filled with comedic chatter, breathtaking visual stunts and lots of audience participation! Audiences love his wild comical antics,
high-energy pace and amazing stunts. Roberto the Magnificent's Crazy Comedy Stunt Show is appealing to adults and children alike!
When Roberto the Magnificent explodes onto the stage be ready for an action-packed performance that highlights his unique variety of cirque-style skills that include riding very tall unicycles and industrial strength pogo sticks, juggling super sharp knives and flaming torches and spinning hand saws, all while keeping the audience engaged and laughing.